| | |
| --- | --- |
| Machine Name: | CNC Horizontal Machining Center |
| Manufacturer: | DECKEL MAHO |
| Model: | DMC 80H duoBLOCK |
| Year of Manufacture: | 2011 |
| Machine Id: | 134 |
| Disclaimer: | |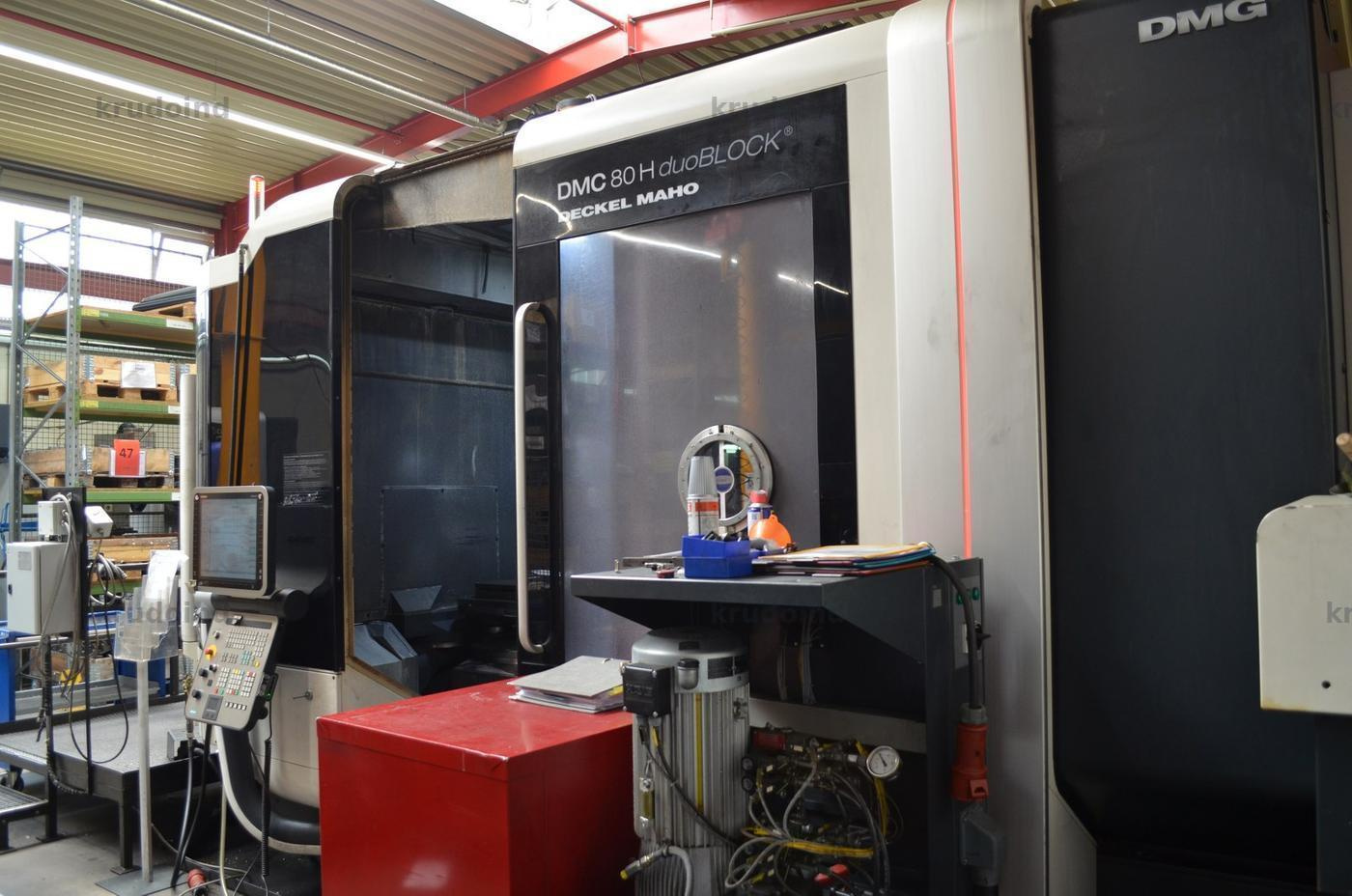 SOLD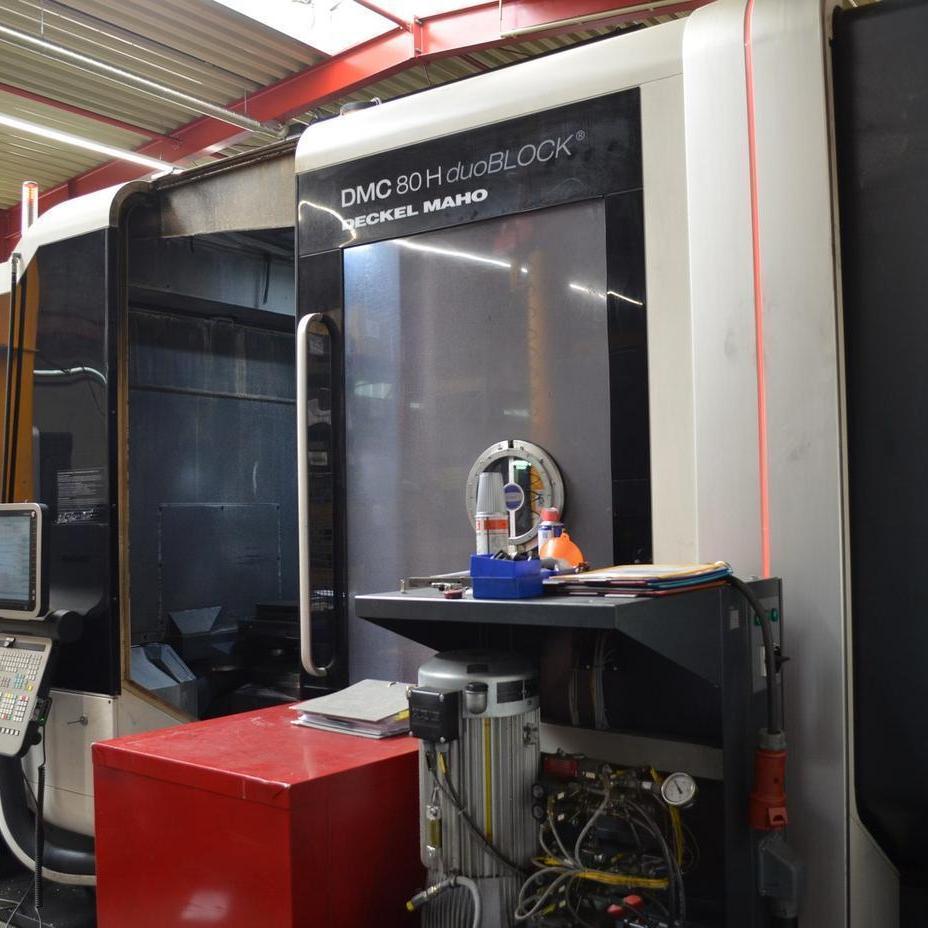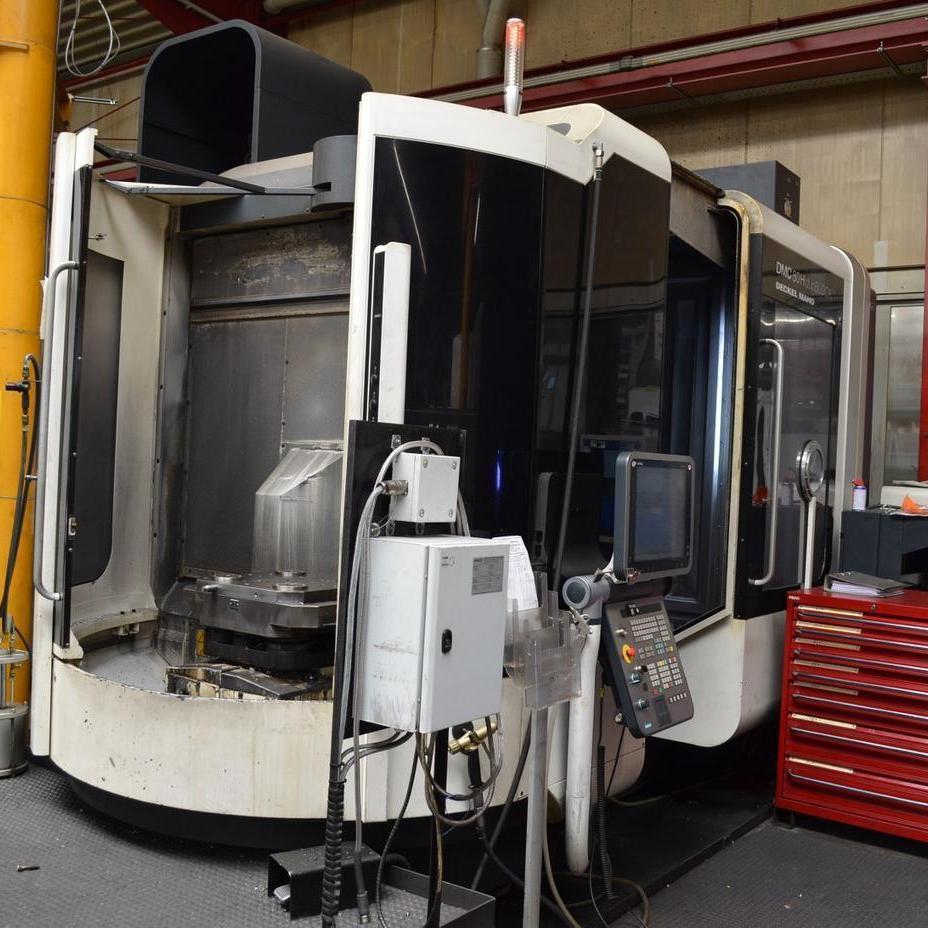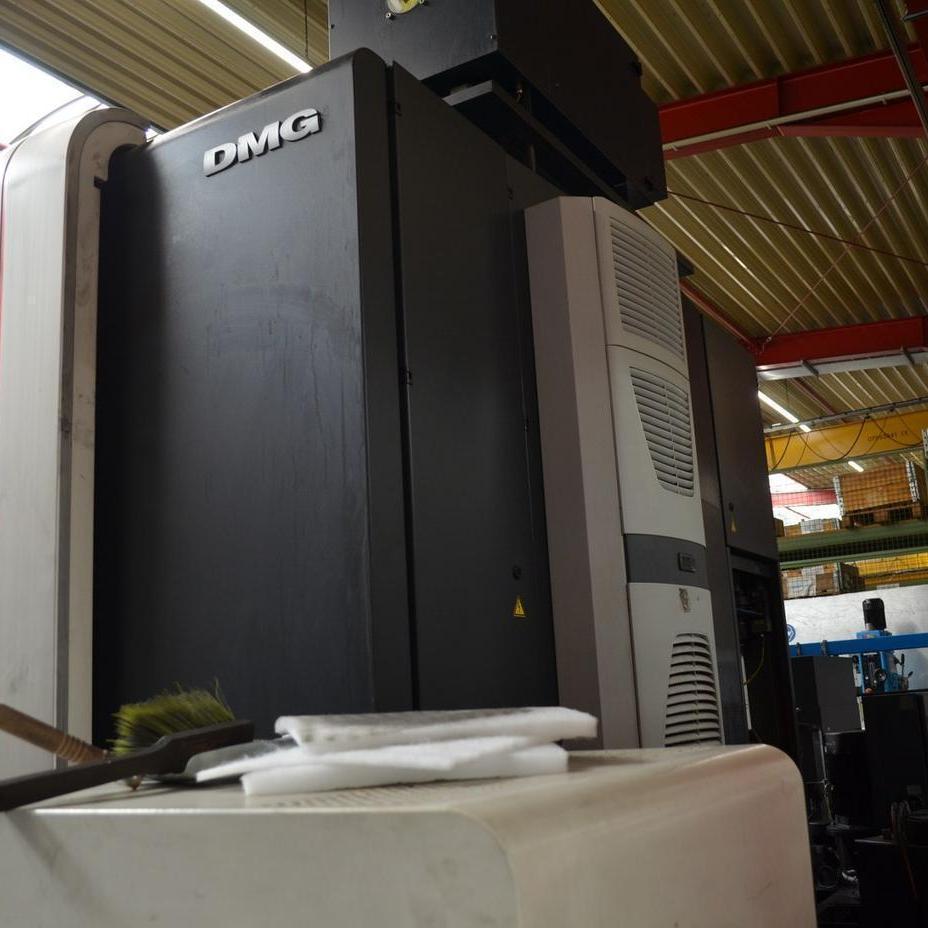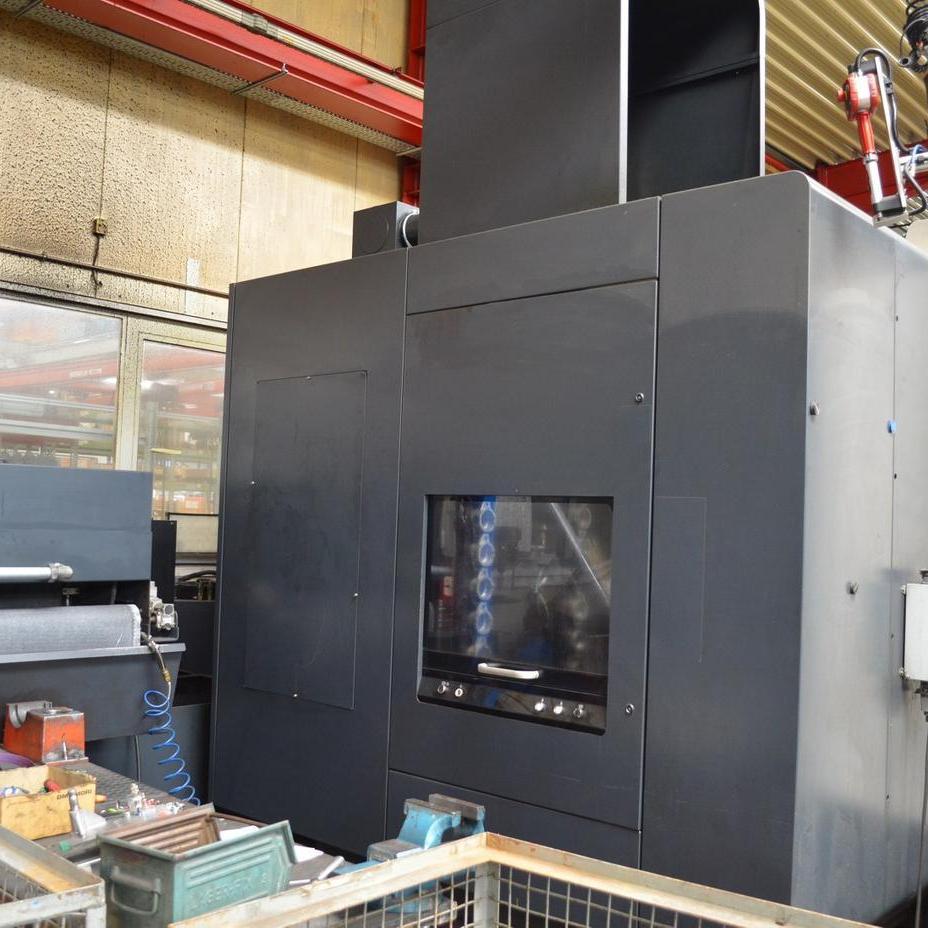 Description:
CNC Horizontal Machining Center
Control: SIEMENS 840D solutionline
Design: direct drive by speed-controlled asynchronous motor with liquid cooling
Tool clamping system: SK 50 – with internal cooling lubricant supply
Taper: SK 50 DIN 69871 form AD
Tool clamping: Mechanical clamping with spring force
Tool relax: Hydraulically
Feed drive:
Design: AC motor, digitally controlled, directly coupled with
rotating ball screw for axes X, Y, Z.
Ball screw: X-axis liquid-cooled
Feed speed: X-, Y-, Z-axis 0 – 60000mm / min.
Rapid traverse: X, Y, Z axes 60m / min.
Feed force: X-, Y-axis max.13kN
Feed force in Z-axis: max. 9kN
Set-up operation: 20 – 2000m / min
Acceleration: X, Y, Z axes 7 / 6.5 / 6.5m / s2
Position measuring system:
Design: direct, absolute, photoelectric
Resolution: X-, Y-, Z-axis 0.001mm
Input resolution: X-, Y-, Z-axis 0.001mm
Position tolerance: X-, Y-, Z-axis 0.007mm
Position tolerance: A-axis * 9ws
Position tolerance: B-axis * 8ws
Position tolerance: C-axis * 7ws
Maximum workpiece height: 1330mm
NC rotary table:
Maximum torque: 40% ED 5000Nm
Holding torque of the table top at:

100% ED (duty cycle) 3660Nm
40% ED (duty cycle) 5000Nm
Max allowable:
Mass moment of inertia: 205kg m2
Maximum rotation: 35 1/min of the table top
Maximum feed: 12600 ° / min
Res. of the meas. System: 0.001 °
Maximum tilting moment: 10kNm
Palette:
Pallet clamping surface: 630 x 630 mm
Weight of the pallet approx. 265kg
Max. workpiece weight: 1400kg on the pallet
Chip conveyor:
LxWxH: 2500x1070x1540mm
Drop height: 950mm
Belt speed 2: +/- 15% m / min.
Chip length: max. 80mm
Chip passage height: 87mm
Weight chip conveyor: approx. 375kg
Band filter system:
Length: 1910mm
Width: 1780mm
Height: 1810mm
Fill volume: 980l
Weight belt filter system: approx. 780kg
Cooling unit machine:
Useful cooling capacity: 8kW
Power consumption: 5,3kW
Nominal voltage: 3 x 400V
Control voltage: 24VDC
Nominal current: 10.5A
Air throughput condenser filter: 8.5m3 / h
Heat output of the system: max. 12 kW
Weight (without filling): 200kg
Width x height x depth: 650 x 1170 x 450
Perm. oper. pressure water: min. 3 / max. 10bar
Pipe connection: 6 x 1 / 2bar
Conveyor pump: 35l / min at 5bar
Tank volume: 45l
Refrigerant: R 134 a
Fill weight refrigerant: 2kg
Degree of protection according to EN 60529 (DIN 40050) IP34
Cooling unit, electrical control cabinet:
Useful cooling capacity: 1.0kW
Refrigerant: R 134 a
Fill weight of refrigerant: 0.33kg
Temperature setting range: +20 – +55 ° C
Weight of the unit: 39kg
BLUM laser tool measurement:
Measurement accuracy: +/- 0.020mm
Repeatability: +/- 0.005mm
Minimum tool dia: 0.8mm
Max tool dia horiz.: 218mm
Max measurable tool length: 493mm horiz.
Infrared measuring probe:
Oil / emulsion mist separator:
Length: 1300mm
Width: 500mm
Height: 750mm
Throughput volume: 1600m3 / h
Promote your used machinery online, find buyers with us.
Related to: CNC Horizontal Machining Center
134